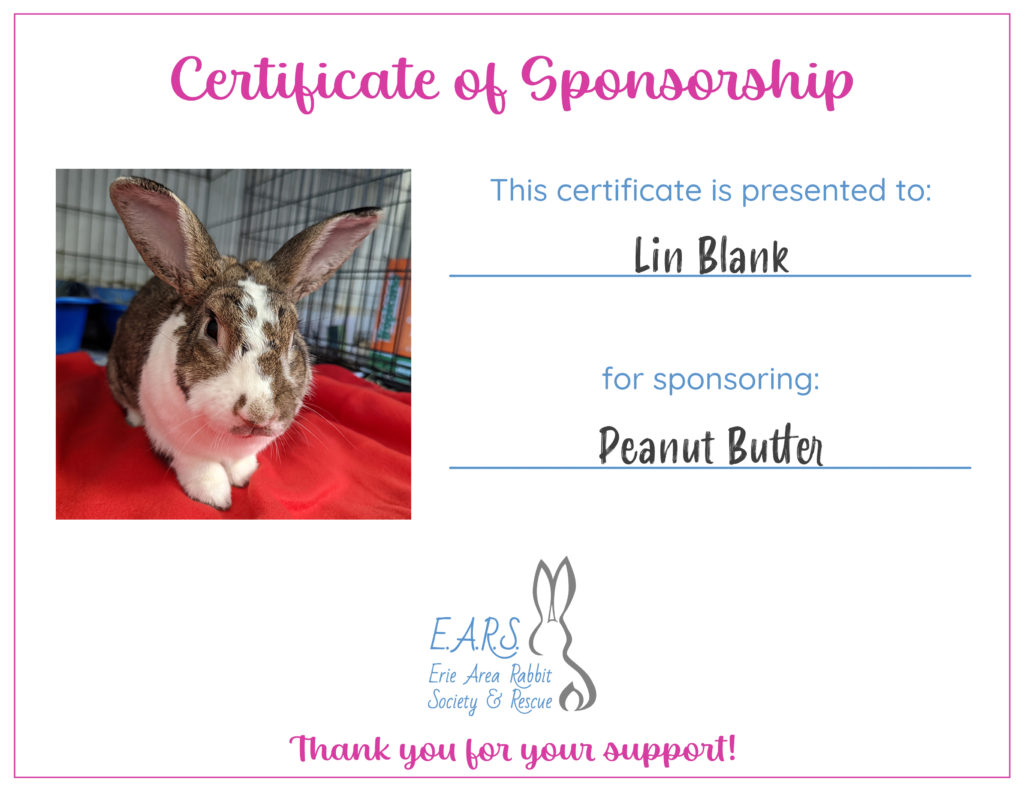 If you can't adopt the bun of your dreams, but still would love to help him or her in some way, consider sponsoring! This is also a great thoughtful, personalized gift for any animal lover.
Sponsoring a bun covers the cost of caring for a resident of our shelter. By sponsoring, you are helping us to pay for food, vet care, and spay/neuter procedures for bunnies currently under our care, which in turn allows us to help more surrendered or abandoned rabbits! The cost per year is $180 per bunny. Sponsorships can be made in amounts of $180 for one year, $90 for six months, and $45 for three months. Adoptable rabbits may be seen on our Adoptables page. Select a rabbit to sponsor by including the rabbit's name as a note when making the sponsorship payment via PayPal.
Benefits of sponsorship:
You will receive a Certificate of Sponsorship via email or hard-copy (you choose) – Makes a great gift!
Your sponsored bunny will get a sign on his/her cage including the sponsor's name and a personalized message
We will post about the sponsorship on social media (unless you choose otherwise)
You'll receive periodic photos of your bunny sent via email, Facebook messenger, or the medium of your choosing
We will notify you when your sponsored bunny is adopted (and you may choose another bunny if your sponsorship has not ended)
How to Sponsor:
Browse our Adoptables page, or visit the shelter, to find a bunny you'd like to sponsor.
Submit payment for your level of sponsorship (1 year – $180, 6 months – $90, 3 months – $45)
Options are:

Mail a check to 2316 W 38th St Erie, PA 16506
Payable to EARS
Drop off cash at the shelter
Donate via PayPal
Be sure to include "Sponsorship" and the bunny's name in the PayPal notes
Donate via Venmo (Venmo@EARS-1)
Be sure to include "Sponsorship" and the bunny's name in the Venmo notes

Fill out the form below.